New Release: KINRU
Submitted by
Stuart
on July 30, 2016 - 19:51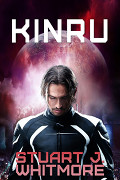 I would like you to meet Birkran Kinru.
Birkran has a problem. He lives in a high-tech world where the bureaucratic government has extensive surveillance capabilities and where populations have been collected into densely populated cities. All of the people and all of the observation of daily activities make him nervous. He just wants to be left alone. Unfortunately, he is strangely connected to both an aspiring young politician and an anarchist hacker. What seems like an awkward connection at first becomes much more when Birkran realizes that someone is toying with him for their own benefit. Continue reading to find out the story behind the story.
Yesterday was an important day for me, as I reached the half century mark. I decided to release a new sci-fi/dystopian novella to mark my birthday. This particular story was mostly written for the fun of writing, so I do not have great hopes for its commercial success, although I do hope that readers enjoy it. The inspiration for the story was actually the book cover, which I purchased as a premade cover before I had a story to go with it.
KINRU is not the type of science fiction where large battles occur in space, there are no aliens to defend against, and there are no new planets to explore. Technology plays a core role in the story, but the story is also about the mental health and personalities of Birkran, the politician, and the anarchist.
If you take the time to read the story, I would appreciate an honest review on the Web site of your choice. For now, KINRU will only be available as a Kindle book.
---
About the Author
Stuart J. Whitmore is an author of fiction and nonfiction, as well as a photographer, technology developer, and more. If you enjoy reading his blog posts, you might also enjoy reading his books. Take a look at the
books by Stuart J. Whitmore
today, and download your copy of one that looks interesting to you!